MMA joinery have teamed up with some of the leading and innovate fire door manufacturers from across Europe & the UK to Offer one the widest variety of door leaf finishes and combinations with innovative USP's that are unrivaled by another door manufacturers within the UK. 1. Like to Morland and all their technical Information. 2 Link to MMM to all there technical information
Overview of Timber Doorframes
MMA produces not only a basic selection of softwood, hardwood, and MDF frames, but also custom-made designs designed to suit your individual project needs.
Early collaboration with our technical department will result in the aesthetics and timber species of your preferred frame in the most cost-effective and environmentally friendly manner.
All frames are delivered in kit or assembled form with a full factory applied lacquer finish or prepped for paint, depending on order requirements.
Our website describes not only our conventional timber/MDF frames but also our unique fully finished foil-wrapped door frames and architraves can give an exact match to the door leaf colour or can be ordered to meet the required LRV requirements.
MMA provides an array of selection of fanlight and sidelight elevations certified to FD30 and FD60 for use in project-specific applications.
Overview of Joinery Products
MMA is able to provide lacquered timber or MDF prepped for paint joinery goods from a standard range or customer-specific designs that will complement the products of doors, frames, and panels.
Standard skirting, architrave, and window board timbers include Ash, Cherry Oak, Steam Beech, Maple, American Black Walnut, and primed MDF.
Skirting & Architraves, Window Boards
See the link below to all possible profiles from SAM Moldings
Veneer Panels That Have Been Sequentially correlated
MMA's specialised veneer matching techniques include a lot more than the less common mismatch, quarter match, or centre feature methods, but also project-specific sequential matching. For the purpose of creating a perfect aesthetically pleasing form, the veneer elements that make up the individual panel are recursively arranged in sequence down the corridor or around the veneered region. Our veneer team will work with you on project floor plans and elevations to ensure that the product delivered to the site is clearly in succession numbered for ease of installation.
Class 0 (Fire Propagation) and Class 1 (Flame Spread)
The fire performance characteristics for internal linings are classified in Approved Document B2 (The Building Regulations 2000) Section 6 (Wall and ceiling linings).
National fire performance rating Class 3 is appropriate for rooms (for the purposes of B2, an enclosed space within a building that is not used solely as a circulation space, the term includes not only conventional rooms but also cupboards that are not fittings and large spaces such as warehouses and auditoria) of less than 30m2.
A national fire performance rating of Class 0 is required for circulation spaces or rooms greater than 30m2.
such as MDF or plywood, and coated with our standard u/v cured lacquer, meet the national fire performance grade Class 3. MMA timber veneer panels with a material that has a density of more than 400Kg/m3, which may consist of MDF or plywood, and decorated with our standard UV cured lacquer meet the national fire performance grade Class 3.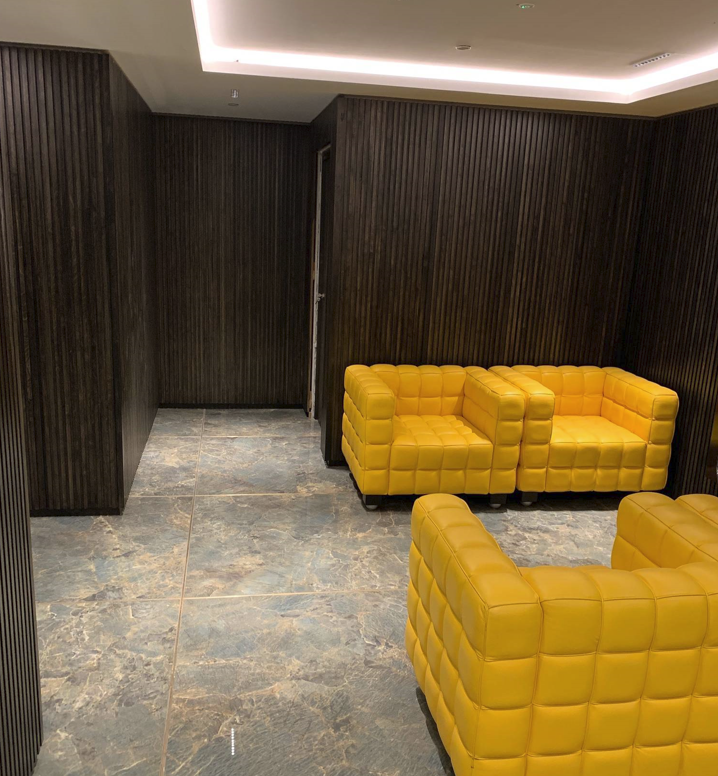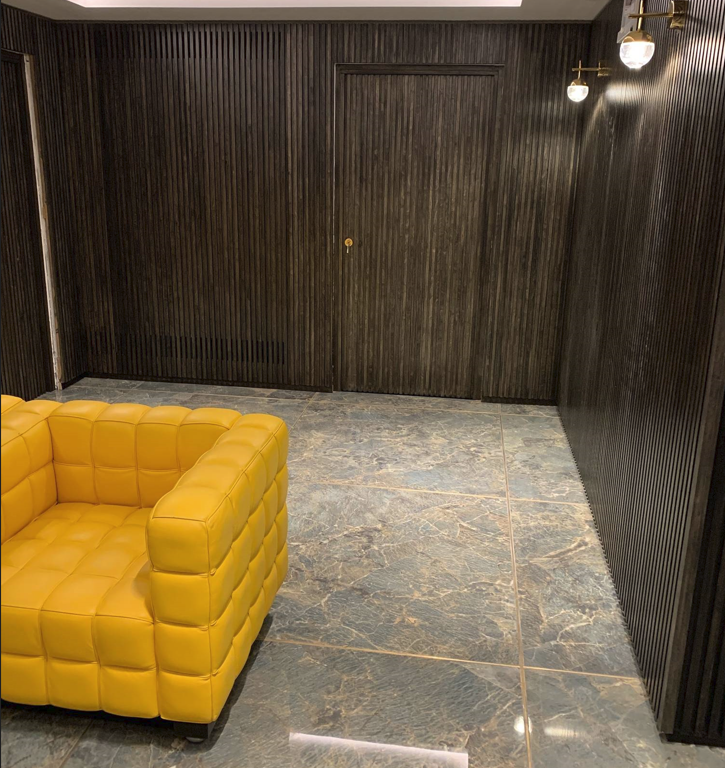 Because of the exceptional veneer preparation abilities of the MMA production staff, we can produce sequentially matched veneer panels for insertion into moveable walls, wall storage systems, and Media walls.

Vertical or horizontal veneer elements can be combined with panel flash gaps and inlays of contrasting veneer or metal strips.

MMA feature walls can be entirely customised to complement specific project design elements such as boardroom tables, credenzas, executive desks, and reception foyers through a meticulous veneer selection procedure.